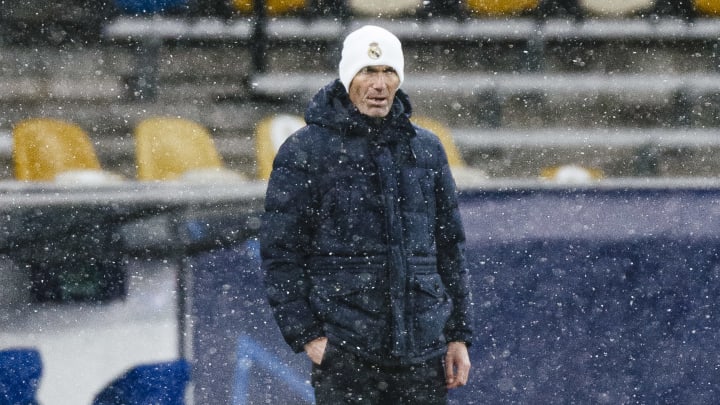 In any normal season, Real Madrid would not fear a trip to Ukraine to take on Shakhtar Donetsk.
However, this is not a normal season. Already this campaign, Los Blancos have been humbled by Valencia, edged out by Alaves and of course, defeated by a coronavirus-stricken Shakhtar.
Surely lightning wouldn't strike twice though, right? Right?! RIGHT???!!!
Wrong.
Oh dear, oh dear, oh dear. How on Earth did this happen?
Well, it didn't always look like Real were doomed for another embarrassing defeat – far from it. Zinedine Zidane's side actually started the game pretty promisingly. Martin Odegaard was picking up some nice pockets of space and even the much maligned Marco Asensio was impressing.
Don't believe us? Luckily social media has the proof.
After the break, things went downhill – fast.
With 57 minutes on the clock, Dentinho made the most of some hilariously static defending from Raphael Varane, darting onto a loose ball and smashing it past Thibaut Courtois.
It was the latest in a long line of Champions League mistakes for the big Frenchman… as social media was more than happy to point out.
After this setback, Real tried to rally but, in truth, they never looked like breaking the hosts down.
Few could complain when Shakhtar made it 2-0 – particularly as Manor Solomon's goal was so brilliant. Picking the ball up from deep, Real just kept backing off and off, and they were punished when Solomon produced an unstoppable finish from just inside the box.
That was all she wrote with Shakhtar sealing the win and securing a famous Champions League double over the most successful team in the competition's history.
As has often been the case in recent weeks, many people chose to lay the blame squarely at Zidane's door. To be fair, Real did look pretty aimless but is sacking Zizou really the way to go?
Some people certainly seemed to think so…
Whatever happens, this result has set up a nail biting climax to Group B, and we cannot wait.
Let'