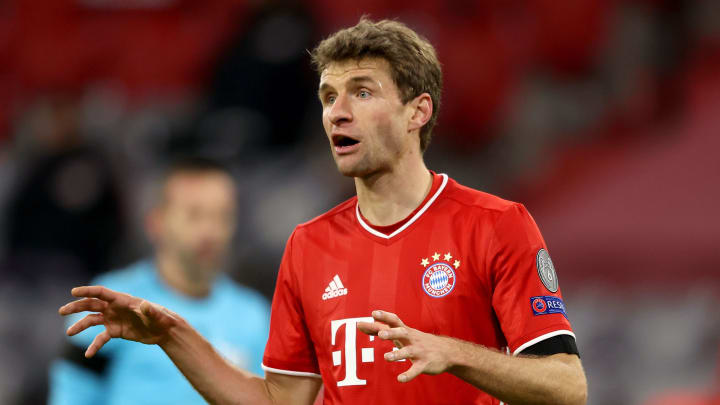 Ladies and gentlemen, prepare to have your funny-bone tickled: Thomas Muller is at it again!
Not satisfied with leaving us gasping for air at his raucous 'Robert Lewan-goalski' gag back in August following Bayern's 8-2 hammering of Barcelona, the German forward has treated us all to another of his classic jokes.
This time, the backdrop was a 3-1 victory over Bundesliga side VfB Stuttgart. Muller played a key role in the victory, bagging an assist for the equaliser and performing his usual space-investigating tricks. It was a tough afternoon for the German champions, and it took them until the final minutes to secure the points, thanks to a Douglas Costa strike.
Our 31-year-old comedian was interviewed after the match, and he admitted that he and his teammates had some difficulty in getting the result over the line in a tough environment. And with the stage set, and the lights dimmed, he recited another hilarious joke from his big book of wise-cracks.
"How do the British people say it? You have to show it on a windy night in Stoke? Today it was not windy and Stuttgart is not Stoke but Stuttgart is a team that plays very well in the last few weeks."
Other than it not being windy and not being Stoke, the analogy 'windy night in Stoke' was absolutely flawless from Muller here. In fairness to the big man, he got his cultural references spot on. It may be a tad outdated, but this idiom has stood the test of time across the footballing world – even if Stoke City's Premier League adventure hasn't lasted as long.
Either way, it was another blank fired by the striker.
Some may say it was an off the cuff remark to defend his honour, but videos tell a different story. Spluttering and desperately trying to interrupt his interviewer, the Bayern star knew he'd landed on an absolute gem, and couldn't wait to spit it out.
To the new Lee Evans' disbelief, his banter didn't receive the applause and tear-wiping he'd anticipated, and so he decided to play it off and pretend it'd never happened. I'd have done the same thing, Thomas.
But Muller is only getting started in his new career as a stand-up comedian – better get used to it, everyone.
Let'