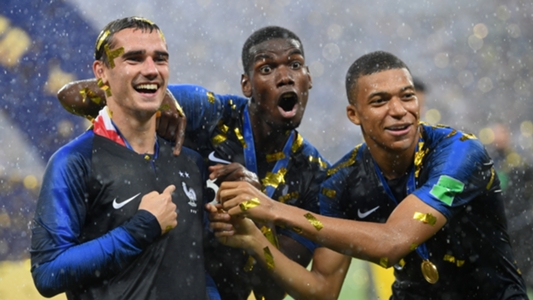 The 2018 World Cup has come to a close, and there seems to be a general consensus that the best team prevailed. 
Didier Deschamps' France ran out 4-2 winners over Croatia in Sunday's showpiece, with goals from Antoine Griezmann, Paul Pogba and Kylian Mbappe firing them to victory after Mario Mandzukic opened the scoring with an unfortunate own goal. 
The win summed up Les Bleus' campaign in Russia: without ever really moving up to fifth gear they were ruthlessly effective, taking their chances even with Croatia dominating possession. 
Even as Pogba and Co. laid their hands on the trophy, the plaudits – and odd criticism – came raining down on Deschamps' men. 
But watch out, France: the countdown to the European Championships in two years' time, and even Qatar 2022, has already begun. 
[embedded content]
🇩🇪🤝🇫🇷

We look forward to welcoming the new World Champions to Munich on the 6th September!#GERFRA #DieMannschaft #NationsLeague @equipedefrance pic.twitter.com/o2KZH3y6ta
— Germany (@DFB_Team_EN) 15 de julio de 2018
Mbappe at 19 vs Me at 19. pic.twitter.com/spBcTs91Bj
— Footy Humour (@FootyHumour) 15 de julio de 2018
Mbappe's children are never going to stop hearing this "when I was your age" story 😂#WorldCupFinal pic.twitter.com/3TXUHpSCSC
— Fatima (@moonlitcemetery) 15 de julio de 2018
Sunday funday: France edition. 🇫🇷 pic.twitter.com/LWO6cgpK8z
— FOX Sports (@FOXSports) 15 de julio de 2018
World Cup 2018 WINNERS!! Congratulations France! ❤️💙 pic.twitter.com/YBZ24ts5JJ
— Big Smoke – (@Skepta) 15 de julio de 2018
Congratulations France for making history and to Croatia for an amazing tournament! ❤️⚽️💪🏼 Shak
— Shakira 🤫 (@shakira) 15 de julio de 2018
Sixteen of the 23 players on France's team come from families that recently immigrated to the country, most of them from Africa. Seven players are Muslim. A testament to how immigrants enrich a country's culture.
— Sabrina Siddiqui (@SabrinaSiddiqui) 15 de julio de 2018
The most impressive thing about this French team is that they continue to succeed despite Deschamps trying his hardest to make them fail

— Zito (@_Zeets) 15 de julio de 2018
Final Thoughts

– French manager Didier Deschamps is smarter than me. He pushed all the right buttons in this game and he deserves a lot of praise.
– I like this version of Paul Pogba about 100x more than the Mourinho-coached one.
– Not sure who deserves the Golden Ball the most.
— Jimmy Conrad (@JimmyConrad) 15 de julio de 2018
After all the criticism this last year… there is one thing not in doubt about this man… and that's his CHARACTER.
Won the World Cup and played an important role! Congrats @paulpogba 🏆🇫🇷 #Pogba #WorldCup #France #FRACRO pic.twitter.com/oEHBUa9DnD
— Rio Ferdinand (@rioferdy5) 15 de julio de 2018
Let'