Former Tottenham owner Lord Alan Sugar has caused online controversy with an offensive tweet after Senegal's 2-1 win over Poland.
The west African side won their first game at the 2018 World Cup, having returned to the tournament for the first time since 2002. An own goal and a second-half strike from M'Baye Niang gave Senegal all three points to go joint-top of Group H with Japan.
Football fans around the world celebrated Senegal's surprise win, but Sugar's attempted joke about the victory backfired spectacularly with the ex-Spurs chief being accused of racism for his ill-advised comment and photo.
Business magnate Sugar, who was chairman of Spurs from 1991 to 2001, posted an edited photo of the Senegal starting XI along with images of sunglasses and handbags, together with the caption "I recognise some of these guys from the beach in Marbella. Multi tasking resourceful chaps."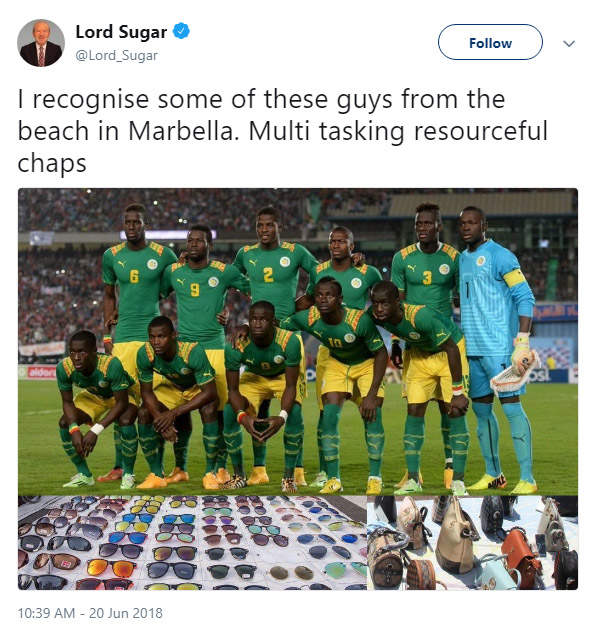 The comment sparked outrage on Twitter, with many people demanding for the photo to be deleted and others calling Sugar 'racist', including actress and fitness guru Kelechi Okafor, who claimed "He's one of those wilfully ignorant people who thinks he can't be racist because he grew up poor. The tweet is overtly racist but he has said with his chest that he has nothing to apologise for."
Just been reading the reaction to my funny tweet about the guy on the beach in Marbella . Seems it has been interpreted in the wrong way as offensive by a few people . Frankly I cant see that I think it's funny. But I will pull it down if you insist .
— Lord Sugar (@Lord_Sugar) June 20, 2018
After refusing to apologise, writing "I cant see what I have to apologise for …. you are OTT … its a bloody joke," Sugar eventually removed the original tweet, insisting that it had been a joke that people misunderstood: "Just been reading the reaction to my funny tweet about the guy on the beach in Marbella . Seems it has been interpreted in the wrong way as offensive by a few people . Frankly I cant see that I think it's funny. But I will pull it down if you insist."
He also became involved in a war of words with BBC journalist Babita Sharma, who posted a screenshot of the original tweet, calling it "A shocking, vile tweet that you take a screen grab of because you know it will soon be deleted."
if it so vile why have you retweeted it . You make me sick https://t.co/WY4xrA3jQp
— Lord Sugar (@Lord_Sugar) June 20, 2018
Sugar responded by claiming Sharma 'makes him sick', firing back a reply asking "if it so vile why have you retweeted it. You make me sick."
Let'