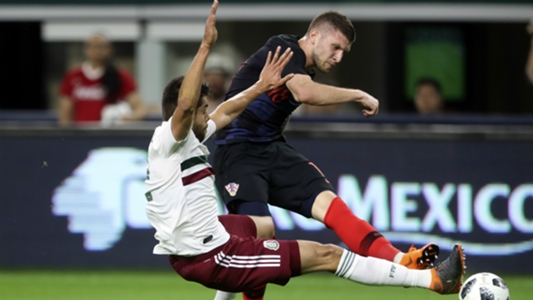 Nestor Araujo has left the Mexico national team camp and will miss the World Cup due to a knee injury, the Mexican federation announced Wednesday.
Araujo reported to Mexico City on Monday and underwent tests to see if he could recover in time for Mexico's World Cup opener against Germany on June 17. Unfortunately for the Santos Laguna center back, he wont be able to take part, returning to his club to recuperate.
"The directors of the national teams inform that, after performing the pertinent studies on player Nestor Araujo, by common agreement and in constant communication with Club Santos Laguna it has been determined the player is out of the Mexico national team camp after showing tendonitis," a statement read. "Nestor Araujo will return to his club and it will be the medical staff of Santos Laguna which will determine the steps to follow for recovery."
The 26-year-old was injured in El Tri's most recent match, a March friendly against Croatia. The situation looked bleak, with the player taken to a nearby hospital before the match had ended. Yet there seemed to be some hope after he underwent a successful operation upon returning to Mexico.
While Araujo returned to training with his club, Santos Laguna, he still felt pain in the knee and didn't appear in any matchday squads as the team won the Liga MX title. During the celebrations, Araujo admitted he still didn't feel at 100 percent and said he would speak with manager Juan Carlos Osorio on Monday.
[embedded content]
Osorio had hoped to name his final 23-man squad earlier this month but ended up naming 28 players because of concerns about injuries Araujo and other El Tri players are carrying.
Andres Guardado and Diego Reyes are the two other major concerns, with Guardado undergoing a procedure last week on a nerve in his right leg and Reyes nursing a right hamstring problem.
Araujo's absence likely will result in a World Cup roster spot for a center back who wouldn't have gone otherwise. Tigres' Hugo Ayala or 20-year-old America defender Edson Alvarez look most likely to fill the spot.
Oswaldo Alanis, a left-footed center back, could also be called upon, as Araujo generally lines up on the left for Santos Laguna though he isn't left footed. The newly signed Getafe man could provide depth for Hector Moreno and Miguel Lauyn on the left side of defense.
Let'