Usain Bolt is one of the most successful athletes of all time and his exploits during his career have marked him out as the best sprinter in history.
An eight-time Olympic gold-medallist, Bolt set new records for the 100 metre and 200 metre sprint races, dominating the athletics scene for over a decade before retiring in 2017.
Throughout his career in athletics, Bolt often spoke of his desire to eventually make a transition into football and, while it raised a few laughs, it was no joke for the Jamaican.
Recent developments have seen that aspiration evolve into a realistic possibility and Goal brings you all you need to know about Bolt's foray into football.
---
Is Usain Bolt a footballer?
---
The short answer to that question is no – for now, at least.
[embedded content]
Bolt is not a professional footballer, but he has an obvious love for the game and he has played some amateur football, as well as six-a-side matches for fun. 
However, that could be about to change in the coming months, following the news that he will have a trial with Bundesliga giants Borussia Dortmund. 
Should he impress enough in Germany, he is hopeful that he will be able to carve out a career for himself as a professional.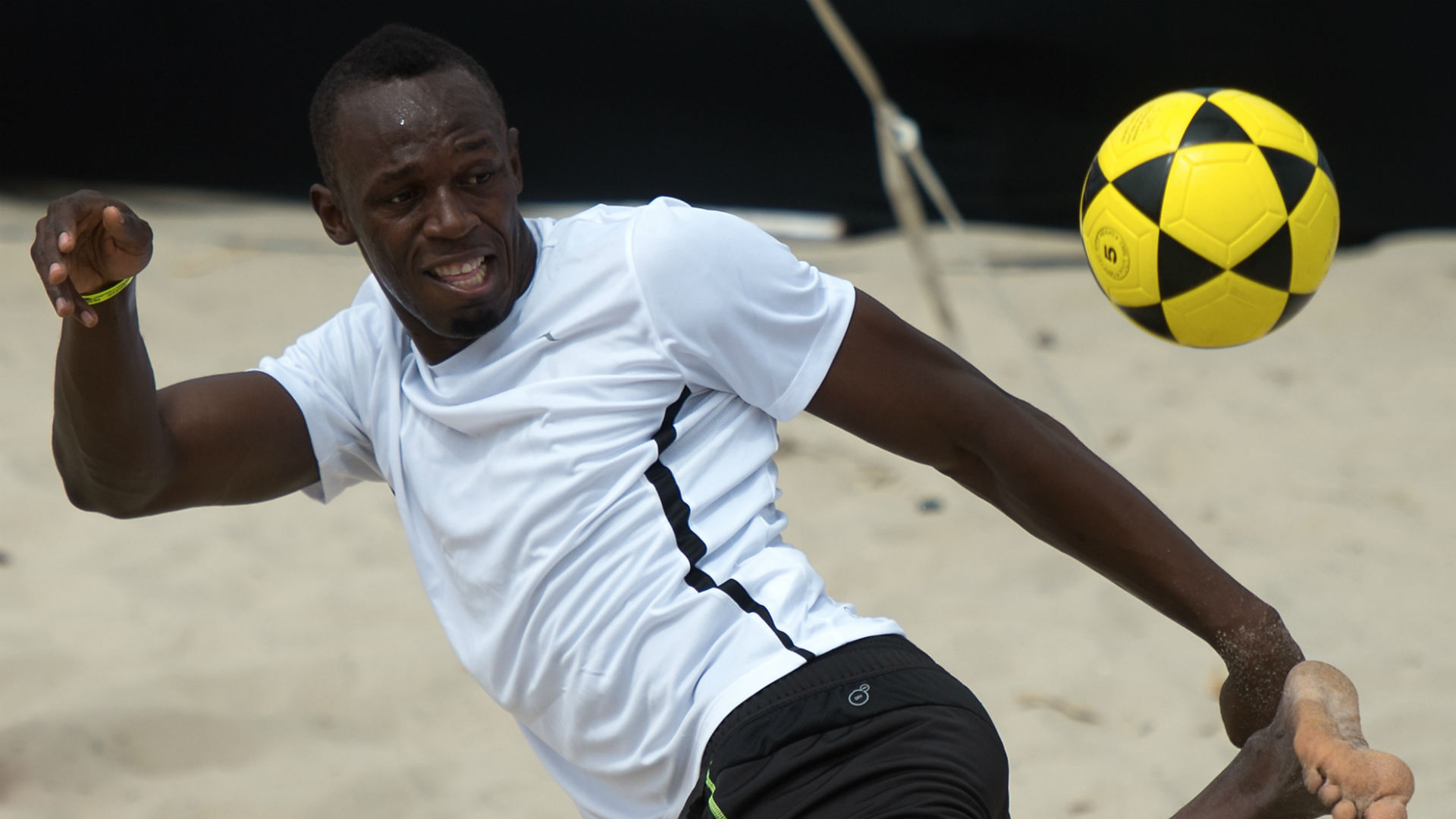 "The injury is now fine and I'm back fully fit," Bolt told the Express. "In March we're going to do trials with Dortmund and that will determine what I do with that career, which way it goes. If they say I'm good, and that I need a bit of training, I'll do it."
The Jamaican revealed that "one of his biggest dreams" is to play for Manchester United and he says that he has even spoken to former Red Devils boss Alex Ferguson about it. 
He clearly believes in himself, once suggesting that he would perhaps be at the same level as Wayne Rooney when it comes to ability, but lining up for Jose Mourinho's side at Old Trafford is a lofty ambition, to put it mildly.
Even Bolt's own agent, Ricky Simms, doubts the likelihood of a Man United move ever happening, noting his client's advancing age and lack of professional football training. 
"Can a sprinter who is 30-years-old play in the Bundesliga or the Premier League? Realistically that is a step too far," Simms told the Daily Star last August. "I think if he had six months or nine months playing and training with a team then he could play at some level whether that is League One or League Two.
"He would hit me on the head for saying he is not going to play in the Champions League, but I don't know realistically if he has the motivation at this stage of his life to go training with the reserves on a rainy day in Manchester or Munich or somewhere as he is a wealthy guy and has a great life.
"With football though in some form you will see him."
That said, Simms also revealed that Bolt had around 12 clubs interested in his services and, considering his physical attributes alone, you can certainly see why.
---
What team does Usain Bolt support?
---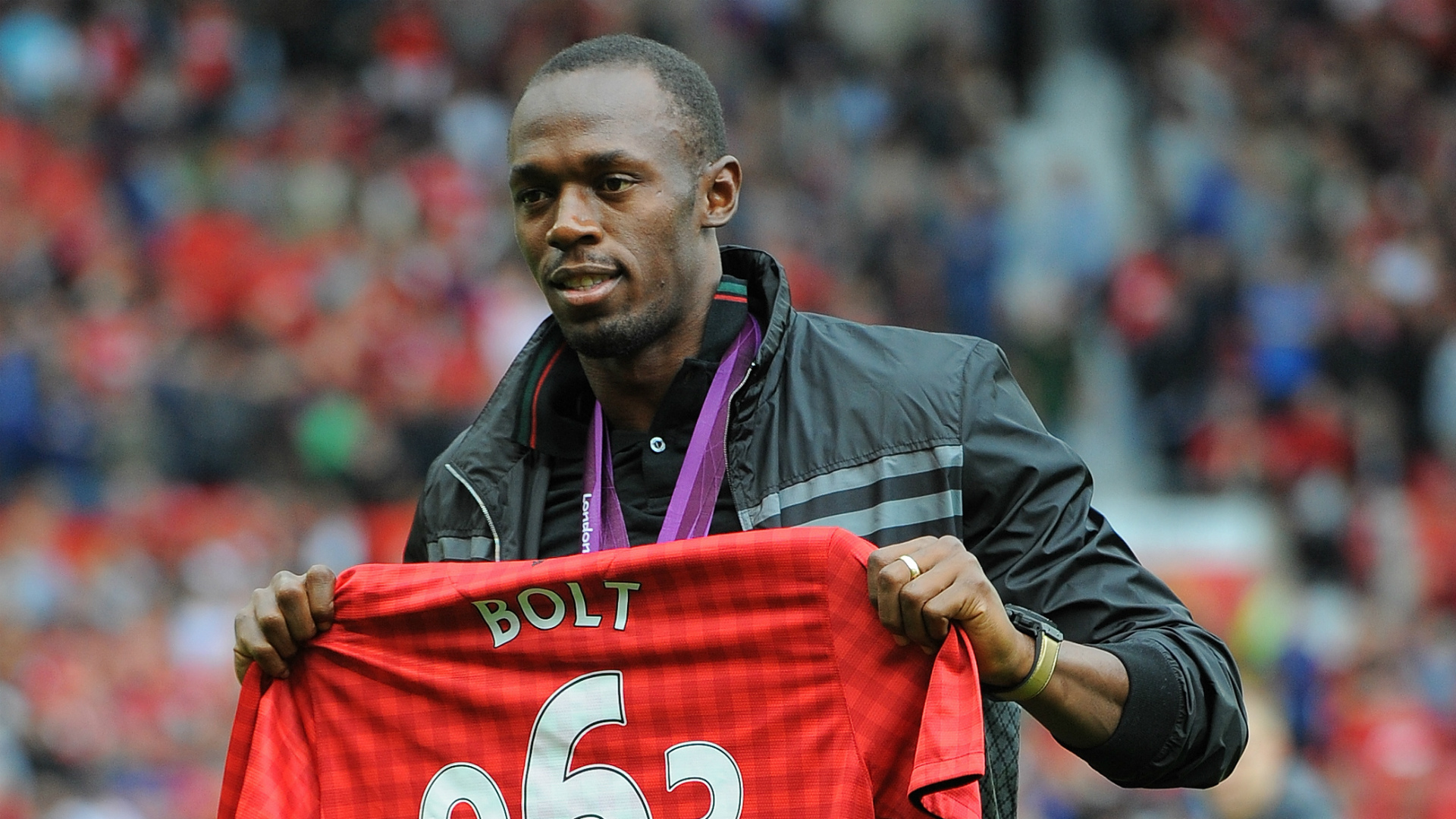 Bolt is a massive fan of Premier League giants Manchester United, which would explain why playing for the Red Devils is one of his biggest dreams.
The Red Devils have regularly acknowledged the star's love for the club, inviting him as their guest to the 2011 Champions League final, as well as having him parade his gold medals in front of the crowd ahead of a 2012 Premier League game against Fulham at Old Trafford.
In 2013, Bolt took part in a promotional video for his sponsors Puma along with Manchester City striker Sergio Aguero (see below) in which he deviously attempts to tire the Argentine out ahead of the Manchester derby.
[embedded content]
As well as being a fan of the club, Bolt frequently rubs shoulders with the top footballers in the world and maintains a friendship with United midfielder Paul Pogba.
Last summer, he explained that he would like to take Pogba for a Nandos and a Guinness in order to celebrate his retirement from sprinting.
"We can go and have dinner at Nando's," Bolt said. "And maybe afterwards we can party a little and I might buy him a Guinness… but not too many because I expect him to lead Manchester United to be champions next season!"
---
Is Usain Bolt on PES 2018?
---
[embedded content]
While Bolt is not yet a professional footballer in real life, his virtual reality alter ego has already conquered the world of football gaming.
Bizarrely, Bolt is in Konami's Pro Evolution Soccer 2018 as a player in the game's myClub mode, where he is joined by the likes of David Beckham, Diego Maradona and other football legends.
pic.twitter.com/yAuJxBsQ2U
— Usain St. Leo Bolt (@usainbolt) January 5, 2018
In PES 2018, the commentator refers to the Jamaican as 'Lightning Bolt' and he performs his signature celebration when he scores a goal. 
At the beginning of the year, he posted a video on his official Twitter page showing a special edition of PES 2018 with his picture on the cover, along with a controller featuring the Jamaica colours.
Could 'Bolt 9' become the new CR7? He certainly has the speed and power, but we'll just have to wait and see.
---
What is Usain Bolt's net worth?
---
Bolt's net worth has been estimated at between £24.5m and £45m, with the bulk of those earnings coming through endorsements rather than prize-winnings from athletics.
The chief endorsement Bolt has is with the German sportswear band Puma and that link has seen him cross over into the world of football, as can be seen in the aforementioned Aguero collaboration.
According to Forbes, the Jamaican was the 23rd best paid athlete in the world in 2017, but he was still comfortably behind the likes of Neymar, Messi and Ronaldo. However, he was ahead of Gareth Bale and Zlatan Ibrahimovic.
Let'