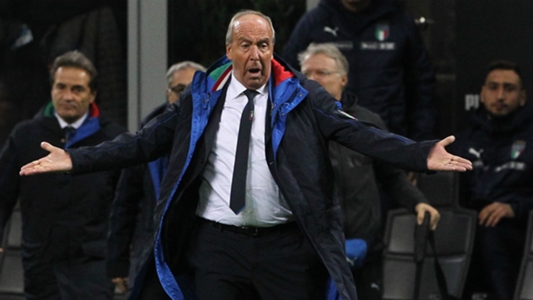 Giampiero Ventura has promised to resign from his role as Italy manager after their failure to qualify for the 2018 World Cup.
Asked by a reporter from Italian television programme "Le Iene" if he will resign his post after the Azzurri drew lost 1-0 on aggregate to Sweden, Ventura replied: "Yes".
Reports from Sky Italia claim that Ventura will, in fact, have his contract mutually terminated by the Italian Football Federation.
That would leave Ventura in line for a pay-off, worth around €700,000.
"Si dimette o no? Ce lo promette?" "Sì".
Questa sera a #LeIene Gian Piero Ventura promette di dimettersi da allenatore della Nazionale Italiana. pic.twitter.com/10YLbrwyYi
— Le Iene (@redazioneiene) November 14, 2017
Italy have been ever-present at the marquee international tournament, but will miss their first World Cup since 1958 after a historic evening at San Siro.
Jakob Johanssen's deflected goal from the first leg was enough for Sweden to qualify for the tournament in Russia, leaving the retiring Gianluigi Buffon in tears after his final appearance for his country.
Italy's failure to qualify for the showpiece in Russia could potentially hit the nation's economy, to the tune of €1 billion, while defender Giorgio Chiellini believes the nation has hit "rock bottom".
Let'