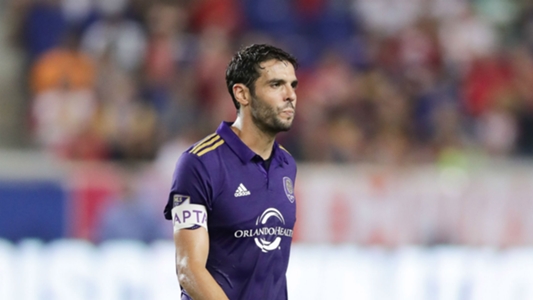 Former AC Milan and Real Madrid superstar Kaka was shown a red card in Saturday night's match between the New York Red Bulls and Orlando City after video reviewshowed the Brazilian putting his hands on the face of current New York defender and former teammate Aurelien Collin.
In a match that had become contentious after a series of late fouls, the two teams were working to separate after a small scrum on the sidelines when Kaka reached around Collin from the behind, putting his hands on the face of the defender in process. 
Referee Jorge Gonzalez took to video review to determine what exactly happened and decided on handing out yellow cards to Cristian Higuita of Orlando City and Sean Davis of the Red Bulls, who were both directly involved in the play leading to the sideline scrum, but issued Kaka a straight red card for violent conduct. 
After Video Review, a red card is shown to Kaka of Orlando City SC for violent conduct. #NYvORL https://t.co/eoyP2CckxJ
— Major League Soccer (@MLS) August 13, 2017
WATCH: Dempsey scores 50th Sounders goal
However, Collin and Kaka can both be seen laughing the incident off, and it even appears as though the defender may have tried to come to the defense of his former teammate. 
New York took a 3-1 win in the match, and the sending off came in the dying moments, and MLS will certainly review the incident and may well void any future punishment, but the decision to send Kaka off will certainly raise more questions about how exactly video review will impact matches going forward. 
Let'