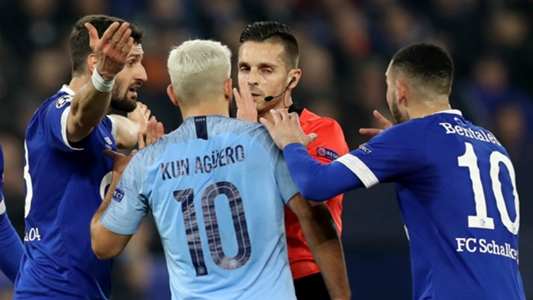 The Video Assistant Referee [VAR] was once again in the firing line after another controversial night in the Champions League.
UEFA brought forward the use of the technology for the last-16 stage of this season's competition , and the controversial system has caused more consternation.
In the first round of fixtures, Ajax were furious after their opening goal against Real Madrid were ruled out for a controversial offside call .
Now the referee for Manchester City's first leg trip to Schalke, Carlos Del Cerro Grande, was at the centre of the confusion after a penalty was awarded to the home team in the first half.
Leading via Sergio Aguero's goal, the hosts had the chance to draw level when Nicolas Otamendi handled Daniel Caligiuri's goal-bound shot.
A corner had seemingly been awarded but VAR intervened to give a penalty, delaying the game being restarted by nearly three minutes before Nabil Bentaleb was permitted to step up to make it 1-1.
Commentating on BT Sport , former Arsenal defender Martin Keown lamented: "It is the length of time this is taking.
"The spontaneity of football is in danger of being lost here. We want quicker decisions, please."
Rio Ferdinand, formally of England and Manchester United, added: "This is the problem with VAR. It takes so long to make a decision."
And he was not the only one to be confused by the time taken to make the call:
VAR needs speeding up. Wait far too long for this VAR decision. No communication of process on big screens until final verdict. Boos all round at delay until cheers from Schalke fans when VAR signals handball and penalty. Bentaleb pen 1-1 #SchalkeCity
— Henry Winter (@henrywinter) February 20, 2019
Definitely think the Man City-Schalke ref is taking all this time doing VAR reviews and admonishing players just so his haircut can get plenty of air time. Betting Bentaleb hits up the ref for his barber's number at halftime. He should.
— Ives Galarcep (@SoccerByIves) February 20, 2019
Not a lot of point having VAR if refs need to take 3 mins to know if its a handball or not! Incompetency of the highest order 🙄
— Matt Le Tissier (@mattletiss7) February 20, 2019
Three minutes to get a VAR decision wrong. Good this innit?
— Jonathan Smith (@jonnysmiffy) February 20, 2019
VAR making a decision in the Schalke v City match. pic.twitter.com/F2tj8xsY0N
— Paddy Power (@paddypower) February 20, 2019
When you slow it down everything becomes a penalty/shifty/ evil looking. If you slowed down man landing on the moon VAR would overrule it and book Armstrong
— Barney Ronay (@barneyronay) February 20, 2019
I don't like VAR because I think there needs to be a world where Diego Costa gets away with villainy.
— Musa Okwonga (@Okwonga) February 20, 2019
VAR is the worst thing to happen to elite football since Roman Abramovich
— elliot ross (@FutbolsaCountry) February 20, 2019
Central to the delay was a problem with the pitch-side screens which officials can refer to help make decisions.
Those monitors were out of action which prevented Cerro Grande from giving an immediate decision, forcing the significant delay in Gelsenkirchen.
The referee couldn't check the pitchside screen regarding the Otamendi handball because it was faulty. He relied purely on the word of the VAR, which probably isn't ideal for such a borderline decision
— James Robson (@jamesrobsonES) February 20, 2019
By the end of a remarkable opening 45 minutes Schalke had turned the game around when Bentaleb struck home a second penalty after Fernandinho was adjudged to have tripped Salif Sane – this time given without the assistance of VAR.
Let'